Tryout Tips from Ben Waldrum, FC Dallas ECNL Coach and Youth Affiliate Director
In addition to getting you the gear you need to be ready for tryouts, SOCCER.COM has reached out to players and coaches across the country to compile the best tryout advice from the best in the game.
Yesterday, we brought you an interview with Joey Calistri, a member of the Chicago Fire who came up through the team's academy before eventually making it to the senior side.
Today, we have a Q&A with Ben Waldrum, FC Dallas ECNL Coach and Youth Affiliate Director. Waldrum played professionally in Germany, Denmark, and Mexico before taking the helm at FC Dallas. Coaching runs in the family; his father coaches Houston Dash.
See what advice this born-and-bred coach has to offer: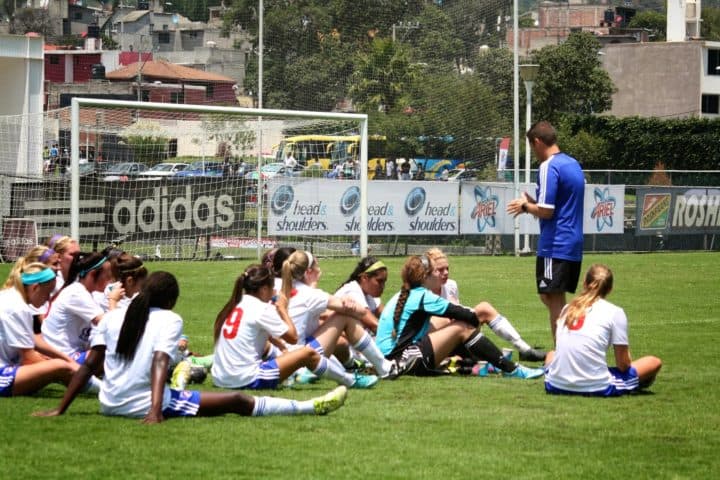 SOCCER.COM: What makes a player standout during tryouts? Does a player get noticed more for individual skill or contributions to a team?
BW: In a tryout setting, where the coaches only get a snapshot of players in a couple of days' time, the biggest factor in young players having success is more about character qualities and having the right mentality.
Young players that display being comfortable in a high pressure, and at times intimidating, environment
Is the player willing to stand out? (take risks without fear of making mistakes)
Is the player being competitive versus being more worried about fitting in to the group?
Does the player (not mom & dad) come up and introduce themselves, shake the coach's hand, and does he or she ask questions? That can certainly make an impression on coaches.
Players get noticed by both their skill and athleticism. You can NOT be the most skillful player on the field and never touch the ball, compete for a ball, or demonstrate your ability by being active. If you are the fast player on the field but can never control a ball or strike a ball well then you are not going to show well either. Both play a factor in the game. Coaches want to see which players can make the most impact in a game.
SOCCER.COM: What's the best thing a player can do to prepare for tryouts physically? Mentally?
BW: This can be different within each club's environment and within all the varying youth levels. We tell our young players all the time they need to spend time with the ball, creating a relationship with it, so they can be comfortable on the ball under pressure. The technical base is vital if you want to become an elite player.
The best way for a young player to be prepared for tryouts from a physical side is to love the game and play it often so they have the physical capacity to be active and show well in a tryout setting. If you get tired after running 30 yards after a ball, then you are not going to show well the rest of the session and not be a successful as you want to be.
Our sport is unique in that you may sprint 10 yards, then jog 20 yards, and then sprint again, and it is hard to replicate this kind of physical demand on your own. So, playing the game often, especially at the younger ages, is important.
Personally speaking, in a tryout setting, I make it a point to tell young players before the session(s) begin is that we are not evaluating every single touch and every detail of their performance. The best way for young players to prepare for tryouts is to continue to practice outside of your comfort zone. If you are currently in a soccer club, make it a point a couple of times a month on an off night to go practice with an older team, a different coach, a younger team–something different, so getting into a new environment and the tryout process won't be so intimidating.
SOCCER.COM: What are you looking for in tryouts that a player might not expect?
This goes back to the character qualities of an individual player I mentioned in the first question.   Absolutely vital in our sport…soccer is an imperfect game, mistakes will be made even at the highest international or professional level.
How you react when things are not going well? It's easy to play the game when everything is going well, but what is your reaction when things don't go your way?
SOCCER.COM: What's the best lesson you learned from you own playing career about tryouts? What would you do differently now that you have the perspective of a coach?
The best advice having gone through this process as a player from a youth level to a professional level is that you are not being judged on every single touch on the ball. I think at times it was easy to get in my own way, mentally. Also, now knowing what I am looking for as a coach, your overall impact should be a priority. How did you affect the game? (Did you create chances for your team? Did your defending, work ethic in transition help lead your group to success in the tryout?)
SOCCER.COM: Outside of performance on the field, what can a player do to standout during tryouts? Leadership, good attitude, sportsmanship, fun, hard worker, good listener, good teammate, easy to coach, etc.
It's important to be coachable. Follow directions or ask questions if you are unclear. Give effort and play with enthusiasm. Being a good teammate for us at FC Dallas Youth means you compete against your teammate with 100% effort and intensity to help your teammate get better. Being a good teammate is raising the level around you as well.
SOCCER.COM: How important is it to look and feel your best during tryouts? Can finding the right cleats and other gear give you an edge in catching a coach's eye and performing?
It is no different than when us adults go into the job world. I think the mantra "Dress for the job you want, not the one you have."
For youth players having the correct equipment and looking the part of a player displays that you want to be there and gives the correct impression to the coaching staff. It is also important for young players to have the right cleats, the right equipment because it can help create confidence in the individual. Confidence is key and half the battle in the youth game. If you look good then you are more likely to play good.